A Cold Day in Paradise: An Alex McKnight Novel (Mass Market Paperback)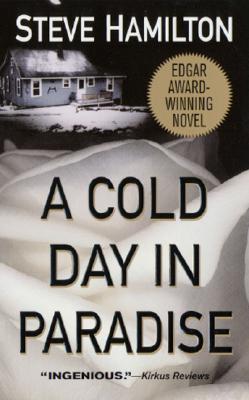 Description
---
In an unprecedented literary event, Steve Hamilton's "A Cold Day In Paradise" has hit mystery's Double Play, winning the two most prestigious honors in the business-- the Edgar and Shamus Awards for Best First Novel. Now, open its covers and see for yourself why this extraordinary novel has galvanized the literary and mystery community as no other book before it...
Other than the bullet lodged less than a centimeter from his heart, former Detroit police officer Alex McKnight thought he had put the nightmare of his partner's death and his own near-fatal injury behind him. After all, Maximilian Rose, convicted of the crimes, has been locked in the state pen for years, But in the small town of Paradise, Michigan, where McKnight has traded his badge for a cozy cabin in the woods, a murderer with Rose's unmistakable trademarks appears to be back to his killing ways. With Rose locked away, McKnight can't understand who else would know the intimate details of the old murders-- not to mention the signature blood-red rose left on his doorstep. And it seems like it'll be a frozen day in Hell before McKnight can unravel the cold truth from a deadly deception in a town that's anything but Paradise. "A Cold Day in Paradise" is the winner of the 1999 Edgar Award for Best First Novel.
About the Author
---
Steve Hamilton

Born and raised in Michigan, he now works for IBM in upstate New York, where he lives with his wife and a son. "A Cold Day In Paradise," in addition to winning an Edgar and a Shamus, was the winner of the 1997 St. Martin's Press/Private Eye Writers of America Best First P.I. Novel contest.
Praise For…
---
"[A] well-plotted and tightly written thriller."--Detroit Free Press

"Chilling as the November wind. A must for PI and suspense fans."--Charles Todd, author of Wings of Fire

"His story is so fundamentally sound and stylistically rounded that Hamilton ought to be teaching whatever writing course he may have taken toward producing this novel."--Jeremiah Healy, author of The Stalking of Sheilah Quinn and The Only Good Lawyer