The Shooting at Chateau Rock: A Bruno, Chief of Police Novel (Bruno, Chief of Police Series #15) (Hardcover)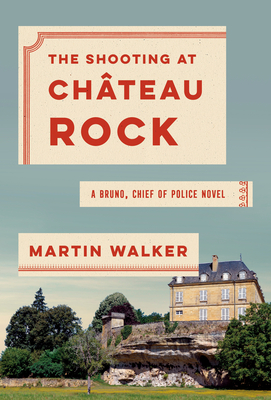 Other Books in Series
This is book number 15 in the Bruno, Chief of Police Series series.
Description
---
When a local's troubling death is linked to a Russian oligarch and his multinational conglomerate, Bruno faces one of his toughest cases yet, one that brings together a French notary and a rock star--and, of course, Bergerac red and white.

It's summer in the Dordogne. The heirs of a Périgordian sheep farmer learn that they have been disinherited, and their father's estate sold to an insurance company in return for a policy that will place him in a five-star retirement home for the rest of his life. But the farmer never gets his life of luxury--he dies before moving in. Was it a natural death? Was there foul play? Bruno begins the investigation that leads him to several shadowy insurance companies owned by a Russian oligarch with a Cypriot passport. The companies are based in Cyprus, Malta, and Luxembourg, but Bruno finds a weak spot in France: the Russian's France-based notaire and insurance agent. As Bruno is pursuing this lead, the oligarch's daughter turns up in the Périgord, and complications ensue, eventually bringing the action to the château of an aging rock star. But, as ever, Bruno makes time for lunch amid it all.
About the Author
---
MARTIN WALKER is a senior fellow of the Global Business Policy Council, a private think tank based in Washington, D.C. His previous novels in the Bruno series are Black Diamond; The Body in the Castle Well; Bruno, Chief of Police; The Children Return; The Crowded Grave; Dark Vineyard; The Devil's Cave; Fatal Pursuit; The Patriarch; The Resistance Man; A Taste for Vengeance; and The Templars' Last Secret, all international best sellers. He lives in Washington, D.C., and the Dordogne.
Praise For…
---
"Enchanting. . . With Bruno around, all's right with the world."—Marilyn Stasio, The New York Times Book Review

"Martin Walker's books . . . are consistently excellent; I really want to know Bruno, to eat at his dinner table with his charming and entertaining guests, to play fetch with his basset hound, Balzac. I really want to be Bruno."—Bruce Tierney, BookPage, starred review

"While the novel has its bad guys, good and evil are less starkly drawn than in many American police tales. That's partly because good has been so humanized here. . . Bruno's reaction to. . . limited criminal justice is telling: Retribution holds no allure for him. Instead he settles for the certainty that the wicked are thwarted, as befits a police officer of such expansive humanity and the novel's ethos of the social over the solitary, the human and animal over the machine, and life over death."—Eve Ottenberg, Washington City Paper  

"Outstanding . . . Francophiles will relish the evocative descriptions of the Périgord region and its cuisine. Distinctive characters complement the intricate mystery. Readers new to this elegant series will feel right at home."—Publishers Weekly, starred review ("Best Books of the Summer")

"While waiting for crime to be solved, readers can revel in the wonders of the Dordogne . . . Falling-off-the-bone French at its ne plus ultra."—Kirkus

"I've read a lot of mysteries in my day, and Martin Walker's Bruno novels are up there at the top of my list alongside Michael Connelly, Georges Simenon, and most recently Anthony Horowitz."—Graydon Carter