Paul of Dune: Book One of the Heroes of Dune (Mass Market)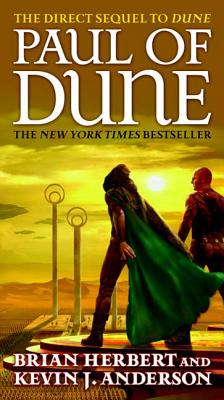 Other Books in Series
This is book number 6 in the Dune series.
Description
---
Paul of Dune is a sci-fi adventure novel everyone will want to read and no one will be able to forget.

Frank Herbert's Dune ended with Paul Muad'Dib in control of the planet Dune. Herbert's next Dune book, Dune Messiah, picked up the story several years later after Paul's armies had conquered the galaxy. But what happened between Dune and Dune Messiah? How did Paul create his empire and become the Messiah? Following in the footsteps of Frank Herbert, New York Times bestselling authors Brian Herbert and Kevin J. Anderson are answering these questions in Paul of Dune.

The Muad'Dib's jihad is in full swing. His warrior legions march from victory to victory. But beneath the joy of victory there are dangerous undercurrents. Paul, like nearly every great conqueror, has enemies--those who would betray him to steal the awesome power he commands. . . .

And Paul himself begins to have doubts: Is the jihad getting out of his control? Has he created anarchy? Has he been betrayed by those he loves and trusts the most? And most of all, he wonders: Am I going mad?
About the Author
---
BRIAN HERBERT, the son of Frank Herbert, is the author of multiple New York Times bestsellers. In 2003, he published Dreamer of Dune, a moving biography of his father that was nominated for the Hugo Award. His other novels include Man of Two Worlds (written with Frank Herbert), Sudanna Sudanna, and The Little Green Book of Chairman Rahma.

KEVIN J. ANDERSON has written dozens of national bestsellers and has been nominated for the Hugo Award, the Nebula Award, the Bram Stoker Award, and the SFX Readers' Choice Award. His critically acclaimed original novels include the ambitious space opera series The Saga of Seven Suns, including The Dark Between the Stars, as well as the Terra Incognita fantasy epic with its two accompanying rock CDs. He also set the Guinness-certified world record for the largest single-author book signing.
Praise For…
---
"This vital link between the first two books of the Dune saga begins immediately after the close of Dune…This is good reading…. Standing well enough on its own for Dune novices, it goes without saying that it's must reading for established fans." —Booklist on Paul of Dune

"Drawing on Frank Herbert's massive body of notes, the coauthors of the new Dune series continue their expansion and illumination of the unexplored pieces of one of the genre's most significant and powerful stories. A priority purchase for libraries of all sizes. Highly recommended." —Library Journal (stared review) on Paul of Dune