To the Copper Country: Mihaela's Journey (Great Lakes Books) (Paperback)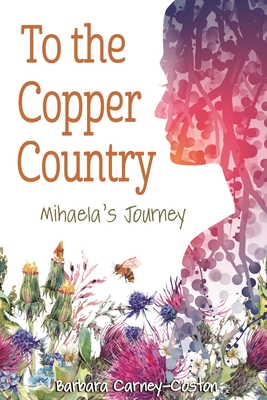 $17.99
Email or call for price.
Staff Reviews
---
YOU CAN ORDER THIS BOOK THROUGH US, BUT PLEASE CALL OR EMAIL. 
We have to get it directly through the publisher, so this database doesn't recognize it. 
Description
---
In 1886, eleven-year-old Mihaela embarks on a journey from Croatia to the Keweenaw Peninsula, also known as Michigan's Copper Country. Mihaela's papa had made the trip two years beforehand in order to work in the copper mines so that he could send money back home, but a painful eye disease has left him vulnerable in a new land and in need of the skills of his wife, an expert healer. And so Mihaela, her mother, and two younger brothers leave their family farm in Croatia for what they assume will be a brief visit to America, only to find themselves faced with a great many challenges and a stay that will not be temporary after all.
To the Copper Country: Mihaela's Journey is based on the family history of author Barbara Carney-Coston. Her ancestors made the voyage from Croatia to Michigan in the late nineteenth century, a time when many different groups were immigrating to the United States in search of a new life and better opportunities for their families. A common thread runs throughout the accounts of most immigrants, in terms of sacrifice, assimilation, and cultural contribution to a growing America. But Mihaela's story is unique in that her exploration of this new land is critical to her father's survival.
Through extensive primary source materials, family interviews, and correspondence, Carney-Coston introduces readers to an exceptional narrative of the immigrant experience. Complete with a pronunciation guide, family recipes, and a bibliography, To the Copper Country aims to highlight a lesser-known ethnic group that made up part of the great migration of the late 1800s while also identifying parallels between today's immigrant experiences and those of the past. This book is suitable for young readers and would be an excellent tool for teaching empathy and Michigan history in the classroom.
About the Author
---
Barbara Carney-Coston is an award-winning media producer, writer, and educator. She began her career as a teacher and then worked in educational television, producing programs for public television, The Learning Channel and a variety of private clients. For National Geographic, she produced many web features, including one about the Underground Railroad that won a Parents' Choice award and was designated an ALA Notable Website. She has written for Highlights for Children, Hopscotch, and Washington Parent magazines. Born in Detroit, she spent many happy summers in northern Michigan before moving to the Washington, DC, area, where she lives with her husband.