Kawbawgam: The Chief, The Legend, The Man (Paperback)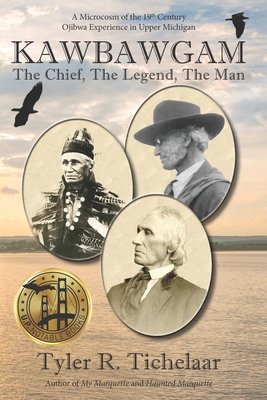 Staff Reviews
---
Kawbawgam by Tyler Tichelaar
Dissecting a legend and their history is no easy task. It is especially hard when considering who wrote down the revised story. It is profoundly difficult when you consider that there isn't a written account by Indigenous Peoples of several hundred years of contact between the Native Americans and the various groups of Europeans on this continent. 
Despite these hurdles Tichelaar has utilized his skills to research this area and it's transition to becoming the America that most of us learn about, function in, and perpetuate.  He has laid down treaty after broken treaty, bigotry, displacement, , assimilation, and acquiescense  along side friendship, support, and cooperation. Add in the vast numbers of people who pushed West and industrial development to illustrate that it was the American Dream for some and the American Nightmare for others. 
I applaud the effort. The pages of maps, timelines, and family trees are worth the price of the book. The profuse drawings and photographs are necessary. Did you know, for instance, that Father Marquette did not look like his statue at all? Or that the historical photo that many of us think is Charlotte Kawbawgam is, in fact, not her? This is a collective history that needs to be read, debated, and reconciled. This story is far from over.
— Dianne
Description
---
A 2021 U.P. Notable BookToday, Charles Kawbawgam, "The Last Chief of the Chippewa," is a legend in Michigan's Upper Peninsula for allegedly living to age 103 (1799-1902). But few know anything else about him beyond his being buried in Marquette's beautiful Presque Isle Park. Kawbawgam witnessed a period of intense industrial growth and unheralded change for Native Americans. Growing up at Sault Sainte Marie when the area was still claimed by Great Britain, his first memory was of armed Americans coercing his people into ceding their lands to the United States Government. As the son, nephew, stepson, and later son-in-law of Ojibwa chiefs, and in time a chief in his own right, Kawbawgam learned early that he would have to walk a fine line to keep the peace for his people. After temporarily migrating to Canada with other Ojibwa in disagreement with the American government, he returned to the Sault where he was recruited to help found the town of Marquette Kawbawgam would preside over an Ojibwa and metis community that ensured the white community's survival during Marquette's early years, only to be pushed to the community's margins as the city grew and prospered. Yet the admiration and affection he won from whites as well as the Ojibwa ensured peace and a legacy that lives on today. Kawbawgam is a story of cross-cultural friendships, survival amid upheaval, and the importance of community and heritage.