Dune: The Machine Crusade: Book Two of the Legends of Dune Trilogy (Mass Market)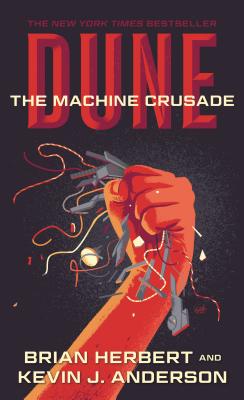 Other Books in Series
This is book number 2 in the Dune series.
Description
---
From New York Times bestselling authors Brian Herbert and Kevin J. Anderson, Dune: The Machine Crusade continues the fantastic saga of Frank Herbert's Dune. . .

More than two decades have passed since the events chronicled in Dune: The Butlerian Jihad. The crusade against thinking robots has ground on for years; the human worlds grow weary of war, of the bloody, inconclusive swing from victory to defeat.

The fearsome cymeks, led by Agamemnon, hatch new plots to regain their lost power from Omnius. Aurelius Venport and Norma Cenva are on the verge of the most important discovery in human history—a way to "fold" space and travel instantaneously to any place in the galaxy.

And on the faraway, nearly worthless planet of Arrakis, Selim Wormrider and his band of outlaws take the first steps towards making themselves the feared fighters who will change the course of mankind: the Fremen.
About the Author
---
BRIAN HERBERT, the son of Frank Herbert, is the author of multiple New York Times bestsellers. In 2003, he published Dreamer of Dune, a moving biography of his father that was nominated for the Hugo Award. His other novels include Man of Two Worlds (written with Frank Herbert), Sudanna Sudanna, and The Little Green Book of Chairman Rahma.

KEVIN J. ANDERSON has written dozens of national bestsellers and has been nominated for the Hugo Award, the Nebula Award, the Bram Stoker Award, and the SFX Readers' Choice Award. His critically acclaimed original novels include the ambitious space opera series The Saga of Seven Suns, including The Dark Between the Stars, as well as the Terra Incognita fantasy epic with its two accompanying rock CDs. He also set the Guinness-certified world record for the largest single-author book signing.