Warrior of the Altaii (CD-Audio)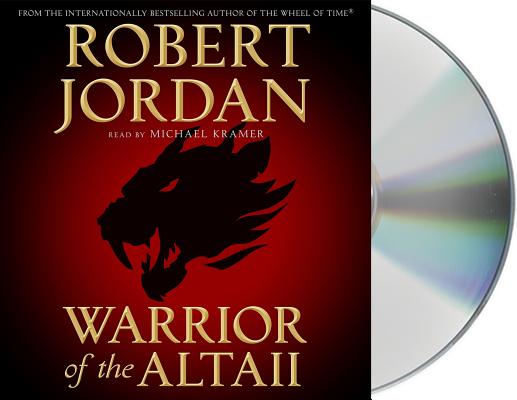 Description
---
Epic fantasy legend, and author of #1 New York Times bestselling series The Wheel of Time®, Robert Jordan's never-before published novel, Warrior of the Altaii:

Draw near and listen, or else time is at an end.

The watering holes of the Plain are drying up, the fearsome fanghorn grow more numerous, and bad omens abound. Wulfgar, a leader of the Altaii people, must contend with twin queens, warlords, prophets and magic in hopes of protecting his people and securing their future. Elspeth, a visitor from another world, holds the answers, but first Wulfgar must learn to ask the right questions.

But what if the knowledge that saves the Altaii will also destroy them?

"Jordan has come to dominate the world Tolkien began to reveal." —The New York Times

Explore Robert Jordan's epic fantasy masterpiece, and enter the realm of The Wheel of Time®

Prequel: New Spring
#1 The Eye of the World
#2 The Great Hunt
#3 The Dragon Reborn
#4 The Shadow Rising
#5 The Fires of Heaven
#6 Lord of Chaos
#7 A Crown of Swords
#8 The Path of Daggers
#9 Winter's Heart
#10 Crossroads of Twilight
#11 Knife of Dreams

By Robert Jordan and Brandon Sanderson
#12 The Gathering Storm
#13 Towers of Midnight
#14 A Memory of Light

By Robert Jordan and Teresa Patterson
The World of Robert Jordan's The Wheel of Time

By Robert Jordan, Harriet McDougal, Alan Romanczuk, and Maria Simons
The Wheel of Time Companion

By Robert Jordan and Amy Romanczuk
Patterns of the Wheel: Coloring Art Based on Robert Jordan's The Wheel of Time
About the Author
---
ROBERT JORDAN (1948-2007) is best known for his internationally bestselling epic fantasy series The Wheel of Time®, which has sold over 40 million copies in North America and is currently being adapted for the screen. A native of Charleston, Jordan graduated from The Citadel, the Military College of South Carolina, with a degree in physics. He served two tours in Vietnam with the U.S. Army and received multiple decorations for his service.
Michael Kramer has narrated over 100 audiobooks for many bestselling authors. He read all of Robert Jordan's epic Wheel of Time fantasy-adventure series as well as Brandon Sanderson's The Stormlight Archive series. He received AudioFile magazine's Earphones Award for the Kent Family series by John Jakes and for Alan Fulsom's The Day After Tomorrow. Known for his "spot-on character portraits and accents, and his resonant, well-tempered voice" (AudioFile), his work includes recording books for the Library of Congress's Talking Books program for the blind and physically handicapped.

Kramer also works as an actor in the Washington, D.C. area, where he lives with his wife, Jennifer Mendenhall (a.k.a. Kate Reading), and their two children. He has appeared as Lord Rivers in Richard III at The Shakespeare Theatre, Howie/Merlin in The Kennedy Center's production of The Light of Excalibur, Sam Riggs and Frederick Savage in Woody Allen's Central Park West/Riverside Drive, and Dr. Qari Shah in Tony Kushner's Homebody/Kabul at Theatre J.
Praise For…
---
For The Wheel of Time®

"Jordan has come to dominate the world Tolkien began to reveal." —The New York Times

"The Wheel of Time [is] rapidly becoming the definitive American fantasy saga. It is a fantasy tale seldom equaled and still less often surpassed in English." —Chicago Sun-Times

"Hard to put down for even a moment. A fittingly epic conclusion to a fantasy series that many consider one of the best of all time." —San Francisco Book Review

"The most ambitious American fantasy saga [may] also be the finest. Rich in detail and his plot is rich in incident. Impressive work, and highly recommended." —Booklist

"Recalls the work of Tolkien." —Publishers Weekly

"This richly detailed fantasy presents fully realized, complex adventure. Recommended." —Library Journal