Guide to Making Fire without Matches: Tips, Tactics, and Techniques for Starting a Fire in Any Situation (Paperback)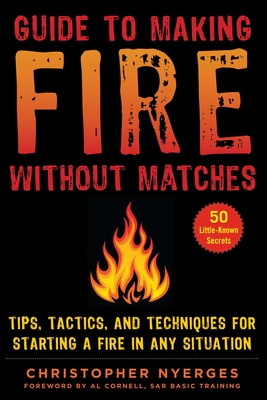 Description
---
Learn How to Start a Fire, Even When It Seems Impossible!
Since the dawn of mankind, fire has been a staple of survival. Whether it is used to keep warm, cook food, or scare away predators, fire is an essential element, one that is almost impossible for humans to live without. But with society's current dependence on modern tools and technology, many persons would have no idea how to start a fire without matches or a lighter. In an emergency situation, a lack of knowledge about it could easily prove fatal.
In
Guide to Making Fire without Matches
, survival expert Christopher Nyerges provides readers with all the skills that they may need to start a fire without modern tools. The book begins by covering the history and lore surrounding fire, and then moves on to describe, in detail, the four main methods through which fire is made: friction, the sun, electricity, and chemistry. Additional topics include:  
How to make a fire in the rain
The best locations to build a fire
Safety precautions to take when around fire
How to tend your fire
How to make a signal fire
Different ways to cook with fire
And much more!
With helpful diagrams, illustrations, and sidebars,
Guide to Making Fire without Matches
is the ultimate reference book for learning about an essential element.
About the Author
---
Christopher Nyerges has been teaching ethno-botany and survival skills since 1974. He has worked with numerous organizations over the years and co-founded the School of Self-Reliance. He has authored numerous books on survival and self-reliance. He resides in Southern California. He can be contacted at www.SchoolofSelf-Reliance.com.

Al Cornell teaches a variety of wilderness skills and prehistoric skills, focusing on wilderness safety and preparedness. He and his teaching partner Michael Campbell teach fire-starting for survival several times a year at SAR (Search and Rescue) Basic Training.
 
Praise For…
---
"Christopher Nyerges, with over forty years of teaching outdoor skills, wilderness survival, bushcraft, and ethnobotany, is a true master of outdoor skills. It is always amusing to see some survival "expert" demonstrating something "new"...something I learned from Christopher well over twenty years ago! Dedication, research, and field experience is what I look for in a survival instructor and Christopher checks all the boxes. Being one of the most prolific outdoor writers, Christopher has conveyed volumes of knowledge to outdoor enthusiasts thirsty for the insight. If you practice the skills you read in Christopher's book, you will be a more accomplished outdoorsman." —Keith Farrar, wilderness and survival instructor

"Fire is an essential element of survival, but what if you left your matches at home? What now? No matches? No problem." —Enrique Villasenor, natural living instructor