Inspection: A Novel (Hardcover)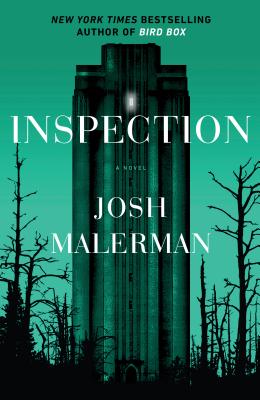 Staff Reviews
---
The Parenthood is raising geniuses, only catch is they don't tell them another gender exsists. A unique take on gender stereotypes, leaves you grasping for the true threat until the very end.
— Shelby
From the author of Bird Box comes The Alphabet Boys, twenty-six boys raised unaware an opposite sex exists in an attempt to fuel genius. As they grow so do concerns of puberty, fears of violence and rebellion as individual personalities develop. Similar concern seems to be lacking three miles away in an identical tower of Alphabet Girls. As genius successfully grows within these children, it's only a matter of time before they discover each other and chaos ensues. A unique view of typical gender stereotypes, you'll be grasping for the real threat until the very end. ~Shelby
— From
recent reviews list
Description
---
Boys are being trained at one school for geniuses, girls at another. Neither knows the other exists—until now. The New York Times bestselling author of Bird Box invites you into a world of secrets and chills in a coming-of-age story like no other.

"Josh Malerman is a master at unsettling you—and keeping you off-balance until the last page is turned."—Chuck Wendig, New York Times bestselling author of Blackbirds

J is a student at a school deep in a forest far away from the rest of the world.

J is one of only twenty-six students, all of whom think of the school's enigmatic founder as their father. J's peers are the only family he has ever had. The students are being trained to be prodigies of art, science, and athletics, and their life at the school is all they know—and all they are allowed to know.

But J suspects that there is something out there, beyond the pines, that the founder does not want him to see, and he's beginning to ask questions. What is the real purpose of this place? Why can the students never leave? And what secrets is their father hiding from them?

Meanwhile, on the other side of the forest, in a school very much like J's, a girl named K is asking the same questions. J has never seen a girl, and K has never seen a boy. As K and J work to investigate the secrets of their two strange schools, they come to discover something even more mysterious: each other.

Praise for Inspection

"Creepy. . . a novel whose premise is also claustrophobic and unsettling, but more ambitious than that of Bird Box . . . Inspection is rich with dread and builds to a dramatic climax."—The Washington Post

"This unlikely cross between 1984 and Lord of the Flies tantalizes."—Kirkus Reviews

"Malerman builds a striking world. . . . As he did in Bird Box, Malerman's crafted an irresistible scenario that's rich in possibility and thematic fruit. . . . Where [Bird Box] confined us behind a blindfold, Inspection rips it off."  —The A. V. Club

"A must read . . . It's a wonderful thing, digging into a new Josh Malerman novel—no idea what to expect, no clue where his twisted mind is going to take you."—Cemetery Dance
About the Author
---
Josh Malerman is a New York Times bestselling author and one of two singer/ songwriters for the rock band The High Strung. His debut novel, Bird Box, is the inspiration for the hit Netflix film of the same name. His other novels include Unbury Carol and Inspection. Malerman lives in Michigan with his fiancée, the artist/musician Allison Laakko.
Praise For…
---
"A wonderfully mad bit of narrative knotwork, braiding together threads of The Handmaid's Tale and BioShock with aplomb . . . Josh Malerman is a master at unsettling you—and keeping you off-balance until the last page is turned."—Chuck Wendig, New York Times bestselling author of Blackbirds and Wanderers

"[Inspection] mashes up gender issues with Frankenstein. . . . Taking a cue from the godmother of horror, Mary Shelley, Malerman's latest, Inspection, appreciates that the scary part is not the lurking, growling monster, but instead exploring the real-world ramifications of such a seemingly fantastical proposition."—The Oakland Press

"Inspection proves that Josh Malerman is a master magician of narrative form. He's distilled the zeitgeist of our terrible times into this dazzling chameleon of a story, part Grimm's fairy tale of innocent youth, part dystopian gender politics and authoritarianism run amok, with a satisfying Tarantino-esque ending."—Alma Katsu, author of The Hunger

"A twisted fairy tale set in a truly unique world whose secrets should not be spoiled, Josh Malerman's Inspection reimagines the pillars of childhood in a smart, witty, and compulsively readable story of growth and rebellion. Read it and enjoy the discovery."—Scott Hawkins, author of The Library at Mount Char 

"Engaging and suspenseful! Malerman creates a fiendish fairy tale of a world where boy was never meant to meet girl and of the hell unleashed when they finally do."—J. D. Barker, internationally bestselling author of The Fourth Monkey and Dracul

"Fast-paced, tension-filled [and] with lots to think about . . . Malerman's latest has all of the claustrophobic tension his fans crave, but this time the monsters are 100 percent human. . . . Think Shirley Jackson writing Lord of the Flies. Hand to fans of Margaret Atwood or Never Let Me Go, by Kazuo Ishiguro."—Booklist (starred review)

"Malerman gives a master class in mood-building with this deliciously creepy coming-of-age story. I don't want to spoil anything because you need to savor every line, but I'd call it Dead Poets Society as directed by Tim Burton. Sounds good, doesn't it?"—Sylvain Neuvel, author of the Themis Files series

"A disturbing coming-of-age story set in a cruel and unthinkable place. Malerman has built a twisted sanctuary that shows us the horrors of conviction."—Dathan Auerbach, author of Bad Man and Penpal 

"Inspection is Josh Malerman's best work to date, a riveting, terrifying, and ultimately life-affirming fable. I'd put Inspection on the same tier as other great novels of dictatorial manipulation such as Atwood's The Handmaid's Tale and Ishiguro's Never Let Me Go. An experience not to be missed by an author who is firing on all cylinders."—Philip Fracassi, author of Behold the Void

"Smart, scary, and utterly compelling. Don't let the parents catch you with it." —Matt Ruff, author of Lovecraft Country