Dune: The Battle of Corrin (Compact Disc)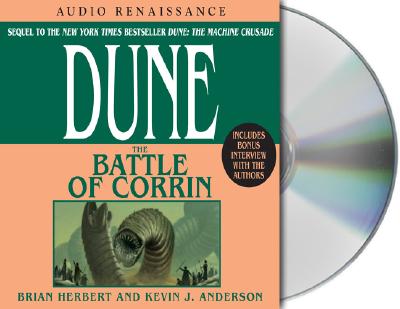 Description
---
Dune: The Battle of Corrin

It has been fifty-six hard years since the events of The Machine Crusade. Following the death of Serena Butler, the bloodiest decades of the Jihad take place. Synchronized Worlds and Unallied Planets are liberated one by one, and at long last, after years of struggle, the human worlds begin to hope that the end of the centuries-long conflict with the thinking machines is finally in sight.

Unfortunately, Omnius has one last, deadly card to play. In a last-ditch effort to destroy humankind, virulent plagues are let loose throughout the galaxy, decimating the populations of whole planets . . . and once again, the tide of the titanic struggle shifts against the warriors of the human race. At last, the war that has lasted many lifetimes will be decided in the apocalyptic Battle of Corrin.

In the greatest battle in science fiction history, human and machine face off one last time. . . . And on the desert planet of Arrakis, the legendary Fremen of Dune become the feared fighting force to be discovered by Paul Muad'Dib in Frank Herbert's classic, Dune.
About the Author
---
Brian Herbert, the son of Frank Herbert, is a multiple "New York Times "bestselling author in his own right. He is the winner of several literary honors and has been nominated for the Nebula award. His critically acclaimed science fiction novels include "Sidney's Comet, Sudanna Sudanna, The Race for God, " and "Man of Two Worlds" (written with Frank Herbert). Recently, he completed "Dreamer of Dune," a comprehensive biography of his illustrious father.

Kevin J. Anderson has written twenty-nine national bestsellers and has been nominated for the Nebula Award, the Bram Stoker Award, and the SFX Reader's Choice Award. His critically acclaimed original novels include "Captain Nemo, Hopscotch, " and "Hidden Empire." He also set the Guiness world record for "Largest Single-Author Book Signing." Scott Brick first began narrating audiobooks in 2000, and after recording almost 400 titles in five years, "AudioFile" magazine named Brick a Golden Voice and "one of the fastest-rising stars in the audiobook galaxy." He has read a number of titles in Frank Herbert's bestselling "Dune" series, and he won the 2003 Science Fiction Audie Award for "Dune: The Butlerian Jihad." Brick has narrated for many popular authors, including Michael Pollan, Joseph Finder, Tom Clancy, and Ayn Rand. He has also won over 40 "AudioFile" Earphones Awards and the "AudioFile" award for Best Voice in Mystery and Suspense 2011. In 2007, Brick was named "Publishers Weekly"'s Narrator of the Year.
Praise For…
---
Praise for Dune: The Butlerian Jihad--Winner of the 2002 Audie Award for best science fiction:
"Scott Brick's narration is as fresh on the twentieth disc as it is on the first. His focus is unwavering, and his pace never falters as he maintains his enthusiasm for the story and
its characters." —AudioFile magazine