Picnic In the Ruins (Paperback)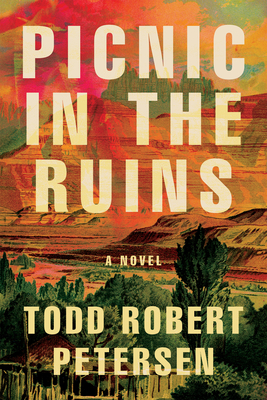 Staff Reviews
---
This mystery is for folks looking for something outside your usual detective or police procedural. It's set in the monument lands on the Utah-Arizona border, and much of it takes place in that landscape, which, If you've been there, is kind of otherowrldly. It kicks off when a man - a famous collector of Native artifacts - is killed, and then evolves into something that is part thriller, part mystery, and part rumination of history and heritage, and what this means for the future of public lands. 
It's a natural fit for fans of Craig Johnson, Paul Dorion, or CJ Box. It is fast paced and tense, and would make a really really good Coen Brothers film.  ~ Dana 
— Dana
Description
---
"Part mystery; part quirky, darkly funny, mayhem-filled thriller; and part meditation on what it means to 'own' land, artifacts, and the narrative of history in the West . . . A fast-paced, highly entertaining hybrid of Tony Hillerman and Edward Abbey." --Kirkus Reviews

Anthropologist Sophia Shepard is researching the impact of tourism on cultural sites in a remote national monument on the Utah-Arizona border when she crosses paths with two small-time criminals. The Ashdown brothers were hired to steal maps from a "collector" of Native American artifacts, but their ineptitude has alerted the local sheriff to their presence. Their employer, a former lobbyist seeking lucrative monument land that may soon be open to energy exploration, sends a fixer to clean up their mess. Suddenly, Sophia must put her theories to the test in the real world, and the stakes are higher than she could have ever imagined.

What begins as a madcap caper across the RV-strewn vacation lands of southern Utah becomes a meditation on mythology, authenticity, the ethics of preservation, and one nagging question: Who owns the past?
About the Author
---
TODD ROBERT PETERSEN grew up in Portland, Oregon, and now teaches film studies and creative writing at Southern Utah University. Petersen's previous books include Long After Dark, Rift, and It Needs to Look Like We Tried. He and his family live in Cedar City, Utah, on the western edge of the Markagunt Plateau.
Praise For…
---
A Library Journal Title to Watch

"Outside your usual police detective procedural . . . Part thriller, part mystery, and part rumination of history and heritage." —Dana Welshans, MPR News

"A romp populated with a cast of eccentric characters and marked by extreme moments of dark humor [and] delicious irony." —Allen Pierleoni, The OC Register

"Petersen's tightly written mystery plays out over the vast, unforgiving terrain on the Utah-Arizona border with a lineup of unforgettable characters . . . Petersen delivers a fast-paced chase over a hostile landscape while underscoring the past and present threats to Native American antiquities. Hang on tight and enjoy the ride." —Library Journal (starred review) 

"A rollicking mystery . . . Peterson keeps up plenty of action and suspense while also offering philosophical insights on who owns the land. Peterson's offbeat adventure keeps the reader turning the pages." —Publishers Weekly

"Part mystery; part quirky, darkly funny, mayhem-filled thriller; and part meditation on what it means to 'own' land, artifacts, and the narrative of history in the West . . . A fast-paced, highly entertaining hybrid of Tony Hillerman and Edward Abbey." —Kirkus Reviews

"Blending dark comedy and crime fiction, Petersen examines a moment in time that exquisitely reveals timeless and far-reaching themes . . . An excellent read for those who enjoy thrillers set in the Southwest and readers interested in the preservation of history and culture." —Booklist 

"Fantastic . . . This isn't just a thriller—it's also one of the funniest books I have read in years . . . This is a perfect read for fans of Elmore Leonard, William Boyle, and The Coen Brothers." —Liberty Hardy, Book Riot

"Picture a Tony Hillerman-style tableau: a red rock desert beneath a deep azure sky, imbued with the history of the sacred rituals and artifacts of the Southern Paiute. Now add a Tim Dorsey or Carl Hiaasen-esque overlay, awash in desiccated Ford pickup trucks, characters who embody the word 'characters,' ulterior motives and belly-rumbling hilarity, and you'll get an idea of the strange trip you're about to embark on . . . Beneath all this, Petersen poses some intellectual questions, such as who really 'owns' land, what rights and responsibilities such ownership conveys and how the inevitable collisions between titled owners, the public good and the ancient claims of sacred ground should be addressed." —Bruce Tierney, BookPage

"[A] darkly comic, madcap thriller with overarching social themes . . . Picnic is wildly creative and easily envisioned." —Lauren O'Brien, Shelf Awareness

"In this twenty-first-century fusion of Zane Grey, Tony Hillerman, and Craig Childs, Todd Robert Petersen gives us a page-turner of a murder mystery." —Stephen Trimble, editor of Red Rock Stories

"A murderously addictive thrill-ride through the remote, rugged Utah-Arizona borderlands, where looting and vandalism of ancient cultural sites remain all too prevalent." —Scott Graham, National Outdoor Book Award-winning author of Mesa Verde Victim

"Reading Picnic in the Ruins is like watching a Tarantino film—scenes unfold to reveal a cast of divergent characters who are destined to collide; and when they do, you won't want to look away. Todd Robert Petersen delivers a roller coaster of a book!" —Margaret Mizushima, award-winning author of the Timber Creek K-9 Mysteries, including Hanging Falls