The Funniest & Grossest Joke Book Ever! (Paperback)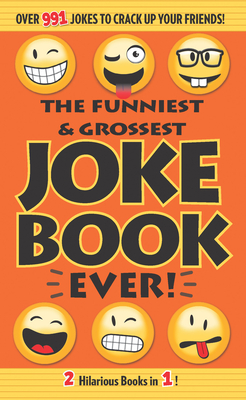 $8.99
May be available in our Warehouse - will ship in 3-7 days
Description
---
Make your friends giggle, guffaw, and groan with disgust at the funniest and grossest jokes ever!

It's a 2-for-1 of epic proportions—this book combines our two bestselling kids' joke books! Do you know a kid who likes Q&A jokes, knock-knocks, puns, riddles, or one-liners? Of course you do! This collection has all that and more—over 900 jokes, actually. Perfect for boys or girls, it spans all kid-friendly topics, including fairy tales, animals, monsters, and disgusting jokes that'll make them (and you) want to barf. They'll laugh out loud at zingers like:

Q: What do you call a cow with a twitch?

A: Beef jerky!

Q: Do zombies eat candy with their fingers?

A: No, they eat the fingers separately.

Q: What kind of life was found on Pluto?

A: Fleas!

And many more!
About the Author
---
Portable Press is a tight-knit group of writers, researchers, and editors who are responsible for some of the publishing industry's most popular non-fiction trivia and facts books. Aside from creating the fan-favorite Uncle John's Bathroom Reader series (more than 16 million books in print since 1988), the Portable Press team also specializes in regional and kids' titles, plus gift books, activity books, and whatever else strikes their fancy.