Journalism and Austerity: Digitization and Crisis During the Greek Memoranda (Digital Activism and Society: Politics) (Hardcover)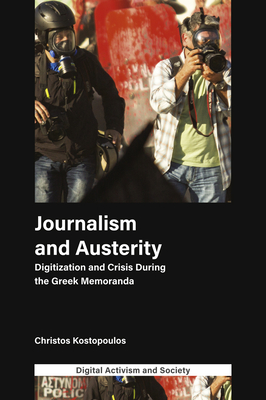 This item is not available for sale on this site.
Description
---
Journalism and Austerity: Digitization and Crisis During the Greek Memoranda presents an overview of press coverage focused on the Greek crisis. The impacts of disaster and digitization in Greek journalism are analyzed with the help of expert testimonies in one of the most significant political cases of the decade.
The author examines the increased use of digital technologies during the economic crisis, and the production of democratic debate around the memoranda in Greece, alongside the interplay between framing and political economic theories. The book enhances our understanding of journalistic production around significant political issues, such as the case of the memoranda signed between the Greek government and the European troika. In this case, the debate was presented in the dominant newspapers of the period in a polarized manner, cut off from global debates
The author presents a multi-level theoretical model of power influences on the frame building process, along with his findings from a frame analysis of media articles and political announcements. The book also includes interviews with elite Greek journalists.
About the Author
---
Christos Kostopoulos is currently a Lecturer of Media and Communication at Curtin University Malaysia. His research interests include media framing and journalistic production of content, changing journalistic practices in the face of increasing digitalization processes, media systems research, political economy of the media, and disinformation and algorithmic governance in the digital age.