Difficult Riddles for Smart Kids: 400+ Difficult Riddles and Brain Teasers Your Family Will Love (Vol 1) (Hardcover)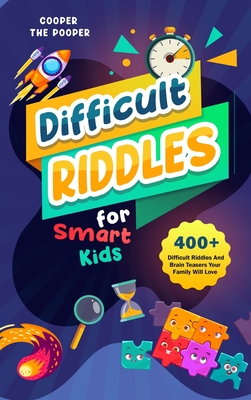 $22.99
May be available in our Warehouse - will ship in 3-7 days
Description
---
Discover An Engaging Family Activity That Will Challenge Your Kid's Young Mind And Ignite A Spark For Learning
In the era of technology we live in, riddles, puzzles, and enigmas have almost become extinct.
This is an issue that many experts on child development have spoken about.
They are worried about the future generations, who are now being more and more tech-dependent.
You want to know about something, you Google it. No need to solve the problem yourself, when someone in the world has probably already done it for you.
No need for analyzing, thinking, argumenting, or rationalizing. It's all right there, just a few types of a keyboard away.
Being a parent in this day and age means having responsibility for not allowing your kid to become a screen-staring zombie.
This is a hard thing to do, considering kids are surrounded by screens and technology from the moment they're born.
So how do you get them to break the screen-addiction and engage in an activity that challenges their intellect, nurtures their minds, and helps them grow up into smart, confident, skillful individuals?
The answer lies in old-fashioned riddles
Riddles have numerous benefits, such as:
● They boost creativity
● They introduce kids to a new type of humor
● Kids develop better vocabulary, and become better readers
● Riddles ignite a love and passion for learning
● They create a bond between you and your children, an emotional connection no screen can provide
And you don't even have to come up with riddles yourself
Here's just a fraction of what you'll discover in Difficult Riddles For Smart Kids:
● 35+ food riddles that will make your kid think, learn, but also roll with laughter
● 40+ incredibly imaginative animal riddles - don't be surprised if a trip to the zoo is added to your kid's wishlist
● 18 challenging math riddles, to develop the scientific portion of your kid's mind and get them interested in science and numbers
● 30 creative word riddles, to boost your child's vocabulary and get them to know the world around them
● 50+ 'What Am I?' riddles - you'll practically be able to hear the gears turning in your kid's brain
● 50+ 'What Is It?' riddles, which will introduce your kid to things and objects they may not even know existed
● 130+ additional fun, rhyming riddles for hours and hours of fun family time
● Bonus A bunch of different riddles structured by its challenge levels: discover easy, medium, hard, and extreme mind teasers
And much more.
Don't worry about getting your kid interested in this type of activity. As soon as they hear the first riddle, they'll become captivated, and soon they'll want to hear another, and another, and another...
If you want to boost your child's intelligence while also having fun at the same time, then scroll up and click the "Add to Cart" button right now.