The Try Not To Puke Challenge - Would You Rather - EWW Edition: A Disgustingly Fun Interactive Activity Game Book For Kids and Their Families Filled W (Paperback)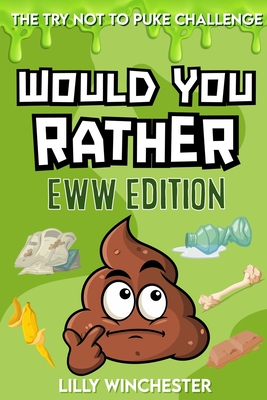 $9.95
Email or call for price.
Description
---
A Great Gift Idea or Family Activity for 2020 Especially for Family Game Night Also Makes a Great Companion for Road Trips
Would you rather... have uncontrollable diarrhea during your wedding ceremony OR high school grad?
Have you ever wondered what kind of choices your kids would make especially if they were gross? Has family game night been a little dry or boring recently? Or maybe you want to get to know your kids better and don't know where to start?

Well this special EWW edition of the popular Would You Rather game is sure to change that Get ready to have a disgustingly fun-filled night for the whole family that is sure to be filled with just as many groans as laughs. This book also works great at breaking the ice in a social setting, as a party game, or as a travel companion especially for roadtrips

Some of the Effects and Side Effects include:
Countless laughs and even more groans that will make unforgettable memories

Challenging scenarios and difficult choices to think about.

Getting to know your loved ones better in ways you would never have thought before.

Parental approval because of the clean and kid-friendly humor

A special bonus at the end of the book for even more laughs.

A unique tutorial on how to play.

So what are you waiting for? This book guarantees hours and hours of fun so gift it to your kids, nephews, nieces, grandkids, neighbors or just about anyone that is looking to have some yucky fun